These infographics have been developed by the CRSN's Best Practice team as subject matter experts within the stroke system of care. Click on each image to view the details. The infographics are listed in alphabetical order.
Please note that the Patient side of the website has its own infographics. These may also be helpful to you in your practice.
Infographics: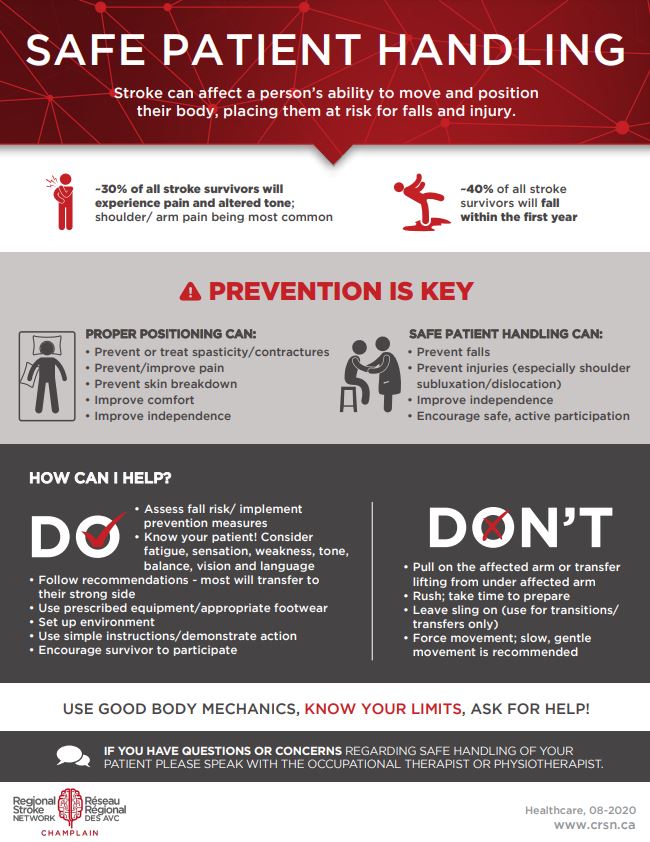 Advance care planning ensures that the care received is tailored to a person's needs and wishes.

Aphasia is when the part of the brain that controls speech and language is injured because of a stroke.

Champlain Region Stroke Landscape A list of the types of stroke services available at our Regional sites.

Communication Disorders Post-stroke Approximately 38% of stroke survivors will have difficulty with communication following a stroke

Delirium is a suddenly confused state of mind. Delirium is common in acute stroke. (Credit: The Ottawa Hospital and the Champlain Region Patient, Family and Caregiver Education Program)

Driving Stroke survivors should not return to driving without guidance from their treatment team.

Dysphagia Approximately 65% of stroke survivors will have problems with chewing and swallowing food and liquids.

Exercise and Mobility Exercise is an important part of recovery and can reduce the risk of having another stroke by ~ 30%.

Post-stroke Depression is a common factor post-stroke, and can significantly impact recovery and quality of life.

Safe Patient Handling Stroke can affect a person's ability to move and position their body, placing them at risk for falls and injury.

Spasticity Early detection through assessment is key to identifying and effectively managing spasticity.

Stroke Prevention for Primary Care Providers Timely initiation of secondary prevention interventions significantly reduces the risk of a major stroke.